Tour Overview
Day 01
HANOI ARRIVAL - HANOI CITY TOUR
Welcome to Hanoi – Vietnam!
The tour guide & driver will be welcoming you at Noi Bai airport; it takes us 35 minutes driving to the centre of Hanoi then check-in at hotel. Rest of the day will be at your leisure. Overnight in Hanoi.
Please note: Standard check in time is 14:00. Early check in is subject to availability of the hotel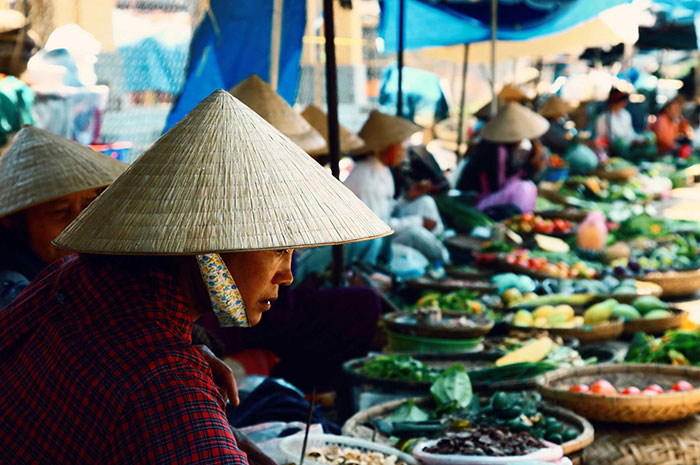 Day 02
HANOI – HOA LU – TRANG AN - HANOI (B)
After breakfast at hotel. A 90km drive south of Hanoi will lead you to Ninh Binh, the site of the one capital city of ancient Vietnam before Hanoi took its leading role in 11th century. The area is featured by lots of well-known sceneries, which include Trang An Complex and Hoa Lu ancient capital with the old temples dedicated to King Dinh & King Le reigned in 10th century. Afternoon, take a boat trip to explore Trang An. Enjoy peaceful moments with clear water, fresh air and spectacular views of mountainous areas. Return to Hanoi. Overnght in Hanoi.
Day 03
HANOI - HALONG - OVERNIGHT ON BOARD (B/L/D)
From Hanoi, at 8AM, head East for more than 3 hours to Halong Bay, the pride of the Gulf of Tonkin, a Natural World Heritage as designated by UNESCO in 1994. The road will pass by the Red River delta with green paddyfields and rural villages, where hard-work farmers are busy with their farming jobs, ploughing buffaloes or planting seedling. Upon arrival in Halong, we'll take a big boat to cruise the Bay to discover the magnificent beauty of this "Descending-dragon" bay, created by thousands odd-shaped limestone rocks and karst grottoes. After a lunch of fresh seafood on board, we can visit the Surprising Grotto, stop for swimming or kayaking, passing floating villages and approach islets to enjoy their beauty in close distance. Back to the boat for dinner late afternoon. Evening attend activities on the boat or relax at your own leisure. Overnight on cruise.
Please note:
- Cruise itinerary may vary depending on the cruise.
- Only Vietnamese & International food available on the boat.
- Private guide is not allowed on the cruise, there is only a station English speaking guide on boat.
If you wish for your private guide to embark the boat, surcharge will be applied.
Day 04
HALONG – HANOI (B/L)
After breakfast, visit by boat to Luon Cave, a ring-shaped pool inside an island in Halong with absolutely tranquil landscape and emerald water. Back to the Wharf of Halong passing the most densely area with many islands that have been named like the Cock-Fighting Rock, Sail Island, Incense burner rock or Sea Dog Rock. Arrive at Halong Wharf around 11.00. Return to Hanoi, rest of the day will be at your leisure. Overnight in Hanoi.
Day 05
HANOI – SAIGON – HALF DAY CITY TOUR (B) –<span style="color:red"> MORNING FLIGHT</span>
Breakfast at hotel, then transfer to the airport for your flight to Saigon. Welcome to Saigon (now known as Ho Chi Minh City) – the most hectic and business city of Vietnam. Upon arrival at the airport, welcomed by the local tour guide and transfer to the city center to check in hotel. Afternoon, we start the city tour at the Reunification Palace, the witness of the fierce Vietnam War ended in 1975. The grand building today is a Museum and Hall of official receptions. Nearby the Palace are the colonial-styled Central Post Office and the Notre Dame Cathedral, built between 1877 and 1883 and one of the city's major landmarks. Have a walking tour on Nguyen Hue street to take the photos of the Opera House and the Ho Chi Minh Committee (outside). From here, walking to Ben Thanh Market one of the most typical symbol of Saigon to experience the daily life of the locals and do shopping the hand-made goods there. Overnight in Saigon.
Day 06
SAIGON – MUI NE (B)
After breakfast at hotel, picked up at hotel and drive to Mui Ne. Rest of the day will be at your leisure. Overnight in Mui Ne.
Day 07
MUI NE - SAIGON (B)
Breakfast at hotel. Have your free time until afternoon transfer back to Saigon. Overnight in Saigon.
Day 08
SAIGON – SIEM REAP (B) <span style="color:red"> NOON FLIGHT</span>
You are free until transfer to the airport for flight to Siem Reap. Upon arrival, welcome by tour guide in Siem Reap, transfer to visit West Baray Big Pond, a "baray" is a water reservoir built by the ancient Khmer people. Come back to visit the "Les Artisans d'Angkor – Chantiers Ecole" the Finest Authentic Khmer Arts and Crafts. It is time to visit Pre Rup temple for a romantic sunset view. Overnight in Siem Reap!
Day 09
SIEM REAP (B)
Breakfast at hotel, explore South Gate of Angkor Thom known as Big Angkor, 3km2 walled and moated royal city and was the last capital of the Angkorian Empire, The famous Bayon Temple was an architectural muddle, in part because it was constructed in a somewhat piecemeal fashion for over a century. Terrace of the Elephants is an impressive, two and a half meter tall, 300 meter long terrace wall adorned with carved elephants and gradual that spans the heart of Angkor Thom in front of Baphuon - huge temple mountain in the heart of Angkor Thom, Royal Palace Area and Phimeanakas - impressive rite and sandstone pyramid. Terrace of the Leper King is at the north end of the Terrace of the Elephants, a double terrace wall with deeply carved nag as, demons and other mythological beings. Last you will visit Ta Prohm temple which is a wonderful combination of human genius and natural beauty! Giant trees have grown here for centuries.
Afternoon visit Angkor Wat temple, the founder of the temple was Suryavarman II who reigned Cambodia from 1113 to 1152 and built the five towers in the 12th century to dedicate to the Hindu God Vishnu. The plan of the pyramidal conception of the temple combined with spaces, alleys, ditches is an ancient masterpiece of architectural design and construction. Have fun at bars and pubs at Angkor night market! Overnight in Siem Reap!
Day 10
SIEM REAP DEPARTURE (B)
Breakfast at hotel, free leisure on own arrangement until time transfer to airport for flight onwards! On the way if there is time we will visit Puok, the real and original place of the Artisans d'Angkor silk, where you will see the full process of silk producing, from the silk worms munch on the Mulberry leaves to spin their cocoons which used to make silk warp. You of course will see the weaving work and purchase the high quality silk products as a beautiful Cambodia souvenir. Straight to Siemreap airport for your departure!